London's No.1 Neon Sign Maker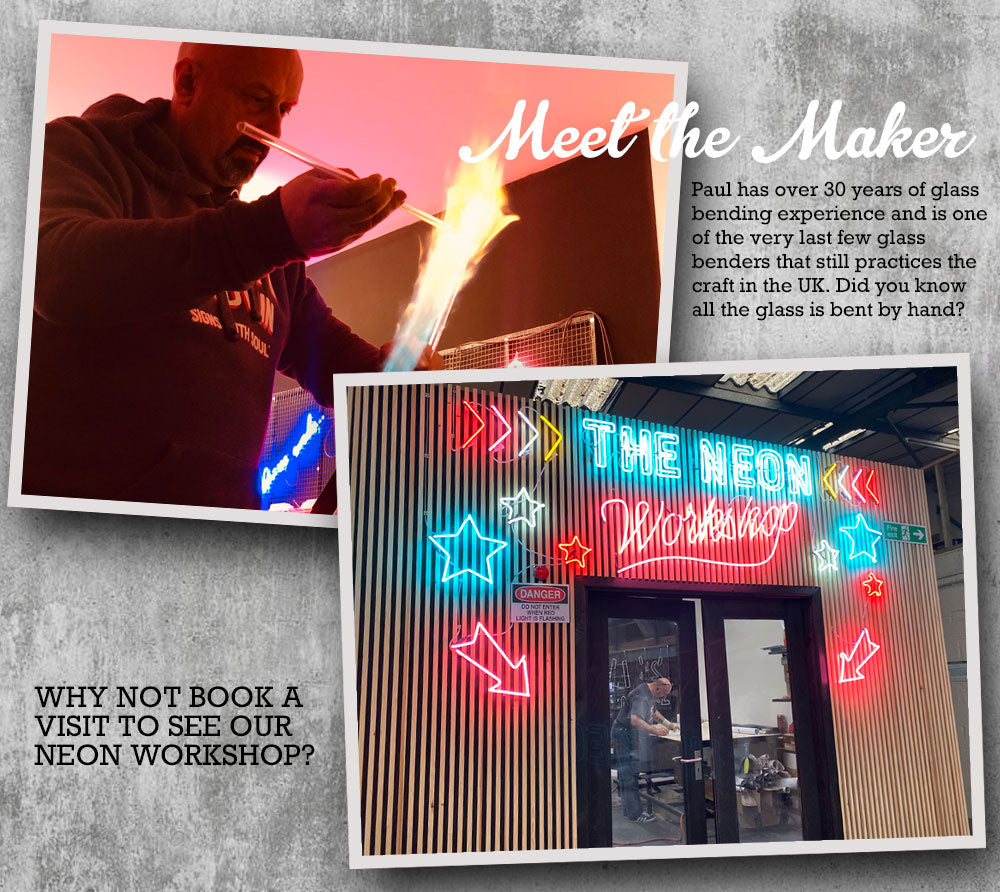 Paul, our neon glass blower has over 30 years experience bending neon glass and is one of the very last twenty or so glass blowers that still practices this heritage carft in the UK.
All neon signs are cold cathode made using traditional glass bending techniques.
All neon signs are manufactured in-house in our London neon workshop. Why not visit our London neon workshop and showroom and see the signs being made in person?
Fast turnaround times - Ask us about our priority builds!
We also have our neon install team installing neon signs all over the UK and Europe. We've fitted neon signs in France, Belgium and Germany.
Neon signs for Homes  |  Shops  |  Businesses  |  Restaurants  |  Bars  |  Events  |  TV  |  Cinemas & Theatre

Simple neon signs start from only £300 + VAT.

The Neon Sign Wall Of Fame!
Neon Sign - Frequently Asked Questions
How much do neon signs cost?
Simple signs cost about £300 +VAT, however as a guide a typical neon sign spend is somewhere between £500-800 +VAT depending on the number of characters, size, font and colour.
Are some neon colours more expensive?
Yes coloured glass costs a little bit more, 'Ruby Red' and 'Yellows'. However these are really stunning vibrant colours and are well worth the extra spend.
How fast can you make a neon sign?
Our normal lead time is 2-3 weeks but we often work miracles, so if you have an urgent deadline please get in touch.
Can my neon sign be fixed directly to the wall?
Yes, this requires a specialist installation and our team of fitters can assist with this, as the glass is very fragile it is not recommended that you try to do this yourself. However if the neon is backed on to acrylic or in an acrylic case then it is much easier to fit yourself, we'll fit the transformers on the the sign and provide a UK plug and cable.
What is the minimum height for a neon letter?
As a guide we generally say no smaller than 10cm, although in some cases we can go slightly smaller it just depends on the font.
Do I need a fireman's switch for my neon sign?
If your neon sign is going outdoors or in a public place or is not going to be fitted with a 13A UK plug then you will need a fireman's switch, we can assist you with this.
Can you fit my neon sign on to a living/green wall?
Yes we have done lots of living walls and we can even supply and fit the panels.
Can I put a neon sign on top of my food truck?
We would not recommend this, while it would look cool it won't take to long before you signs breaks. We recommend LED neon for this kind of a installation.
Which fonts can you use for a neon sign?
Sans-serif and script fonts always work the best. Serif fonts are not impossible but are trickier and more expensive.
Can my damaged neon sign be repaired?
If the glass is broken, even a hairline fracture then the tube would need to be completely remade. If the tubes are fine then a new transformer will do the job. However in most occurrences it is more economical to completely remake the sign from scratch.
Neon Sign Colour Chart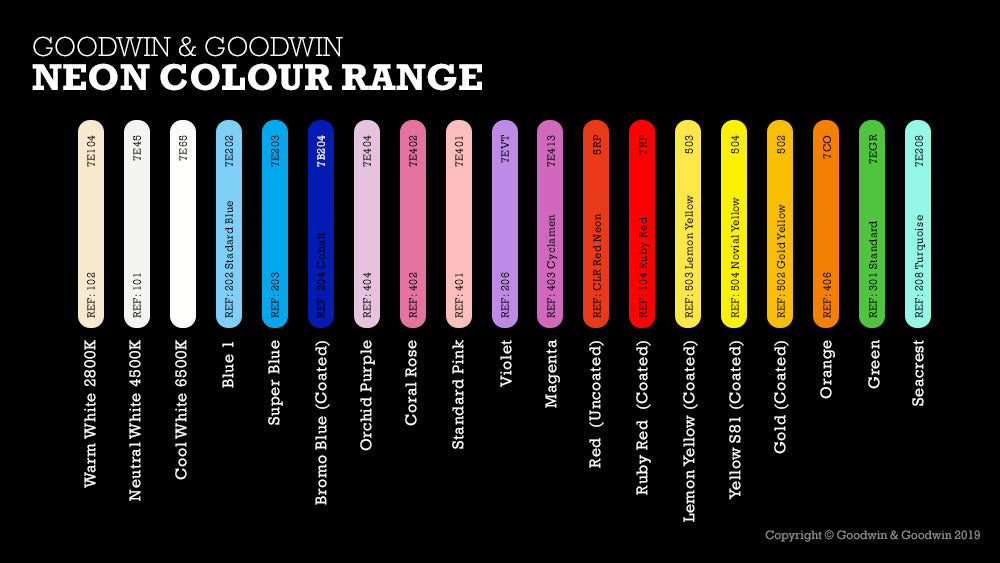 Have you also tried...?
Light-up Letters
Cinema Signs/Readographs
Entrance Canopies
Neon Signs
Light Boxes
3D Sign Letters
Pop-ups & Street Food Signs
Menu Boards
Vintage Signs
Brass Lettering
Stainless Steel Letters
Catering Truck Signs
Vinyl Graphics
Fitting & Installation
Clients include:
Coca-Cola, Ted Baker, MTV, H&M, GAP, Nike, BBC, UGGs, GQ, Mr & Mrs Smith Hotels, Channel 4, Harris + Hoole, Zizzi, Channel 5, QVC, AOL, Hackett, Spotify, House of Fraser, Not on the High Street, Brewdog, 02 Empire, Fortnum & Mason, ITV, Lloyds Bank, Picture House Cinemas, Sol, Linkedin.
Made in our London workshop. We work with creatives studios, architects, interior designers, hotels, bars/restaurants, film/movies, prop hire, shop displays, weddings, rock festivals and cinemas plus many more.
To discuss a project please call 0208 829 0599 or email: sales@goodwinandgoodwin.com.