Best A Board & Pavement Signs reviewed.
A Buyers guide to the best pavement signs for shops, pubs, bars, cafés & restaurants
Whether you call them A Boards, A Frames, Sandwich Boards or Pavement Boards they are all pretty much the same the thing. Made from either metal or wood, some designs perform better and last longert than others. The biggest problem customers report is that there sign blows over in strong winds, the problem is the due to the shape of this sign, it kind of acts as a big sail in strong winds, now blowing over in strong winds isn't necassary a problem as long as the sign can survive the constant hits of being knocked over.
A boards are great for shops, cafes and restaurants to attract people walking by, as you can regularly update the message to promote special offers and new products.
We have designed a range of A boards for all types of budgets and some perform better that others. We have listed our favourite designs here.
1. The metal swinging A frame
This A frame is made from strong metal box section and is powder coated in a strong durable finish. The frame comes in standard colours of black and white. The hanging panel is made from metal and is customisbale to your design, the panel is also secured at the bottom. This is probably the toughest A board on the market. Our Best Seller!
Buy the metal swinging A Board >
2. The Rocking A Board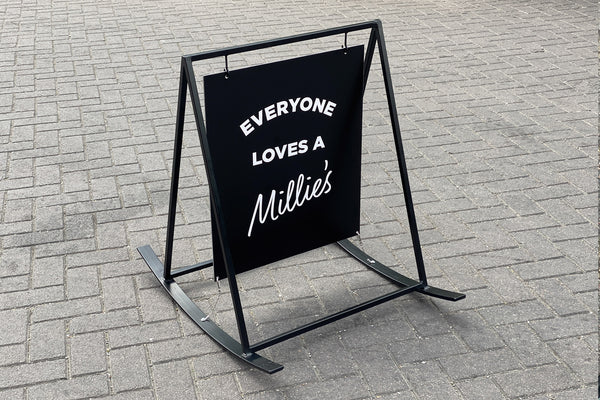 This rocking A board sign is designed to gently rock in the wind.
Buy the rocking A Board >
3. The Simple A Board
This A board made from sheet metal and is popluar for its simple no fuss design. Its our best seller and popular with all types of brands.
Buy the simple A Board >
4. The Planter A Board
This planter A board can be adhorned with plants and features a trough at the bottom that so you can add flowering plants, this is great for florists and brands that like to promote a more natural environmental feel. The plants and soil also add some weight to this all metal sign so less likely to blow over.
Buy the Planter A Board >
5. The Wooden A Board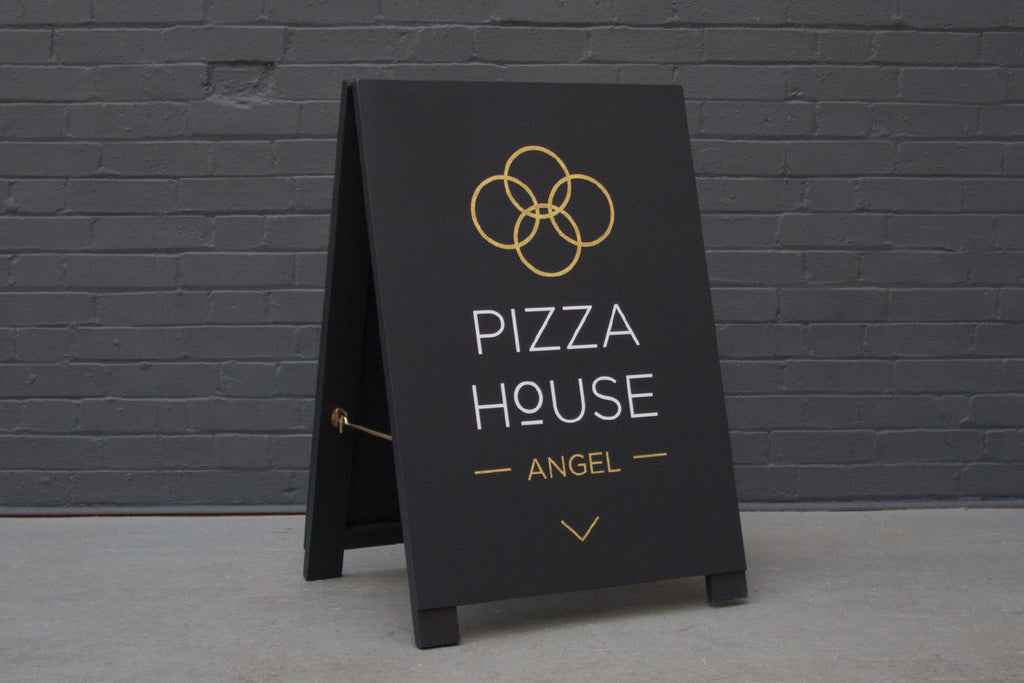 Another of popular A board sign, this is really popular with heritage and traditional brands. It has a more high end feel n can be painted in your brand colour. It features a brass or chrome hook and can easily be folded away at the end of the day.
Buy the wooden A Board >
6. The Poster A Board
This A board features a snap frame on both sides so that you add a poster, this is great if you plan or regularly changing your message and promoting different offers, events and products.
Buy the Poster A Board >
7. The Changeable A Board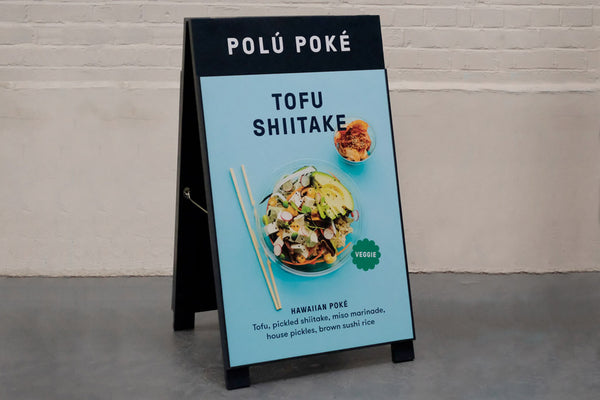 This A board features a frame on both sides so that you drop different panels this is great if you plan or regularly changing your message and promoting different offers, events and products.
Buy the changeable A Board >
8. The DIY A board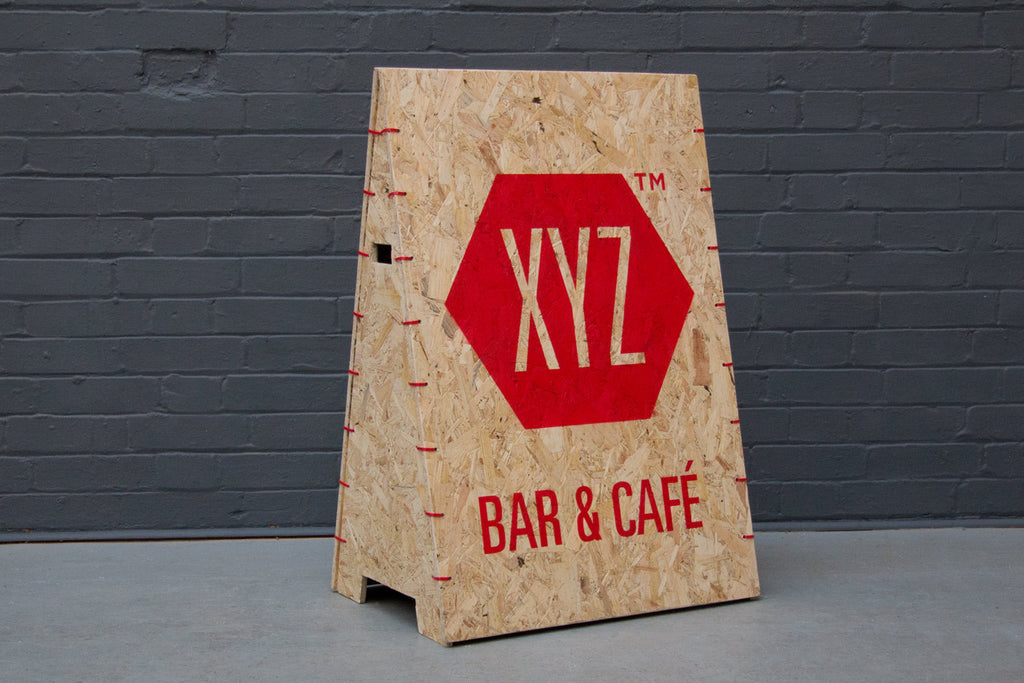 This flat pack design is made from OSB/Sterling board held together with cable ties. You can chose different cable tie colours to match your branding.
Buy the DIY A Board >
9. The Chalk board A frame
Chalk boards are great for when you need to quickly and easily update your customers with new messages of offers. This one is made from wood but we also do metal chalk board A Boards.
Made to order>
10. The Giant A Board
This monster A board is made from timber and features hidden locakable castors and handle cut outs so that you can easily move the sign around. This great sign for larger venues to promote their message and make sure that everyone sees it.
Made to order >
Which A Boards won't blow over in the wind?
Unfortunately almost all A Boards will blow over in very strong winds, however some perform better than others. Its normally ok for an A board to blow over provided they do they don't too damaged. The metal framed A frames perfom the best as they are so strong, but all our A boards come with a one year warranty.
Why does my business need an A Board?
They are great for getting your customers attention as they walk past your business and fantastic to promote an offer or service. If you don't have have you missing an opportunity to get that extra footfall.
What are the most popular A Boards?
Metal A boards are most popular as they are more durable than wooden A boards.
What size are A Boards in the UK?
600mm x 900mm or 24 inches by 35 inches.
Do you need permission for an A board in the UK?
Generally if the A board is going on land you own, you probably won't need permision from the local council. If you lease you may need to check with your landlord. If you are putting the A board on the pavement or public highway you should check with your local council as the rules do vary. It is also worth noting A boards over 1.1m high are not normally allowed, it is also not permitted to fix/chain boards to any bollard or piece of street furniture. Its tempting to go bigger on A boards so that you stand out from the competition however, this poses difficulties for pedestrians, pushchair users & people with disabilities. A boards should not be located where they can be a danger to the public. Enforcement action may be taken if your local council believes you have not followed their rules, so its always worth checking first.